"Rizna Nyctagina" was born on November 3, 1984. Her parents are Cut Fauziah (Ivo) and Imam Djauhari. She is the only child in her family. Rizna Nyctagina well known as "Jeng Kelin", a funny, fretful girl in "PRIME TIME Trans TV" .
Rizna Nyctagina wanted to be a doctor, womb specialist cause when she was 3 years old, her mother was pregnant but the baby died while still in the womb. So, she wanted to know the reason why did it happen.That's why she was a student of "Trisakti University" in Medicine Faculty, Jakarta.
Rizna Nyctagina started her career as a photo model in a teenager magazine, "Kawanku". Then she became an advertising model of "Fresh Natural Soap, Sunsilk shampoo, Indomie, Skin White"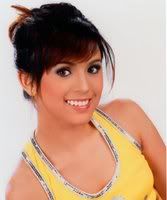 "Indika Entertainment" offered her to act in drama TV serial. Mama, Kawin Gantung, Gengsi Gede-Gedean, Gadis, Jelangkung, Raja Rani, Mak Comblang, Bunga di Tepi Jalan, Ada Apa Denganmu, Prime Time, Nikita, Melati Untuk Marvel, Terlanjur Cinta.
Now, we can watch her on TV program talkshow Trans TV "Wisata Kuliner" with Bondan Prakoso, and in ONLINE with
Olga Syahputra
.